BIGGEST BANG FOR YOUR BUCK: BEST REMODELING OPTIONS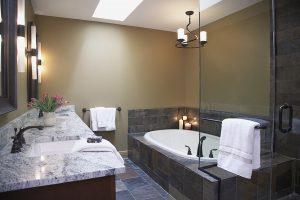 Not ready to move yet but looking to do some home improving? Here are the top return on investment remodels brought to you by the National Association of Realtors.
Projects that will get you the most bang for your buck are going to occur in the areas of your home that are most frequented.
On average nationwide, kitchen and bathroom remodels have the best yield. The key here is newness and spaciousness, the psychology of "fresh" and more spacious quarters translates into direct valuation.
The data below should give you a general idea of what return you could be getting on your improvements:
A minor kitchen remodel costing $17,928 will return about 85.2% of the cost equal to $15,278, while a major kitchen remodel costing $54,241 yields 80.4% return on investment bringing in $43,603.
A bathroom remodel costing $12,160 will yield 84.9% return on investment bringing the sold price up $10,970.
Other remodels that have an 80%, or more, return on investment were window replacements and a two-story addition. Source: Remodeling Online/Hanley-Wood
For a more extensive list of remodeling tips as well as return on investment opportunities please contact Mike or Jenna anytime!